Creating a new Storyboard is easy!
Make a new Storyboard
Go to Menu > Storyboards
Select "New Storyboard" and type your Storyboard Title
Add new sections to your storyboard by clicking on the large "+" icon and choosing a section type. You can keep adding sections to create a layout that fits your needs!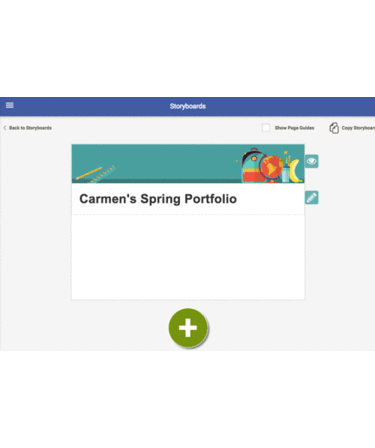 Add Photos, Videos & Text
To add images or video, select one of the section types that includes an image placeholder.
Tap on the image placeholder to load your Moments. Choose the Moment you'd like to add, trim it so it fits in your selected image section type, and select Save!
You can also upload your own Media if you have content outside of your COR Advantage account that you'd like to pull into your Storyboard!
If you wish to add text, click on the "Tap to edit text" option.
Change the Background
If you'd like to change the theme, choose an option by selecting the blue "Selected Theme" button on the bottom of your screen.
Delete Sections
If you want to completely delete particular sections of a Storyboard you have created, select the trash can icon to the right of that section.
Rearrange Sections
It's easy to move sections around if you change your mind about your layout! Simply click on the "Rearrange" icon on the left of the section type, scroll to the area you'd like that section type to move to, and select "Move Here."